Gallivant
Kotting, Andrew (2023) Gallivant. [Film]
6164:121126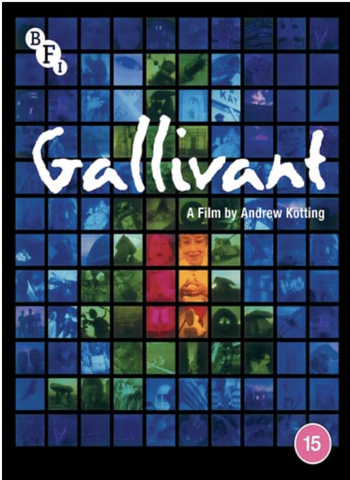 Description/Abstract:
Bromley-born Andrew Kötting is one of the most innovative and most respected artists, writers and filmmakers in Britain today. His best known work, GALLIVANT from 1996, can best be described as part road movie and part home movie as we follow him, his then 85-year old gran Gladys and his seven year-old daughter Eden (who suffers from Joubert Syndrome) on a thirteen week long journey around Britain's coastline, spanning over 6,000 miles. Along the route, the trio meet locals, eccentrics and above all, get accustomed with long-standing traditions which makes this fascinating travelogue a homage to British culture and identity.
To gallivant about means to wander or travel about from one place to another in pursuit of adventure and entertainment. This is precisely what filmmaker Kötting tried to achieve with his travelogue (which premiered at the Edinburgh Film Festival where it won the 'Channel 4 Best New Director' award). As Kötting states: "It was my gran Gladys and her husband Albert who took me on my first trips to the seaside, camping or caravanning. We would nearly always go to Bexhill-on-Sea…" Obviously, those fond childhood memories are full of nostalgia and it's little wonder then that the artist's film (after a brief pre-title sequence) – and the journey together with his opinionated gran Gladys and his daughter Eden – begins at the De La Warr Pavilion in Bexhill-on-Sea. Little Eden suffers from Joubert Syndrome, meaning that mainly, she can only communicate via sign language using her hands. While Gran and Eden don't appear to be that close at first, during their long journey they really bond – it is one of the factors why Kötting decided on this trip… because he wanted to document this travelogue as a journey across generations and before the three might part in 'different' ways.
Item Type:
Art/Design Item
Additional Information:
Newly remastered in 2K by the BFI and presented in High Definition and released on limited edition Blu-ray and DVD.
Uncontrolled Keywords or tags :
film, video, travelogue, psychogeography
Date Deposited:
03 Oct 2023 13:41
Last Modified:
03 Oct 2023 13:46
Actions (login required)
| | |
| --- | --- |
| | Edit View |