The amateur boxing match between YouTube stars KSI (UK) and Logan Paul (USA) on August 25 could amass more than 20m views, if previous events are anything to go by. That's more than watched the finals of the FA Cup, or Wimbledon.
This is big news and big business. With pay-per-view on YouTube priced at £7.50 a pop and tickets at the Manchester Arena going for anywhere between £34 and £516 – not to mention the profits from merchandise and sponsorship deals – this event will make millions for both competitors, regardless of who wins and loses.
Events such as this position YouTube as a major provider of high production-value content that speaks directly to its audience. For example, YouTube reaches 98.3% of Internet users in the age bracket 18 to 24 – a feat which today's TV networks are still working hard to replicate.
But with power comes great responsibility, and while YouTube has tightened its rules about which YouTube videos can be monetised, the platform is still under pressure to take greater responsibility for the content posted on its site.
Meet the contestants
Both KSI and Logan Paul boast more than 18m subscribers each, having spent years uploading videos and building their following on YouTube. KSI's real name is Olajide William Olatunji. He is a 25-year-old British YouTuber, who started out making videos of himself playing FIFA when he was just 15. Now, he earns an estimated £2.3m a year.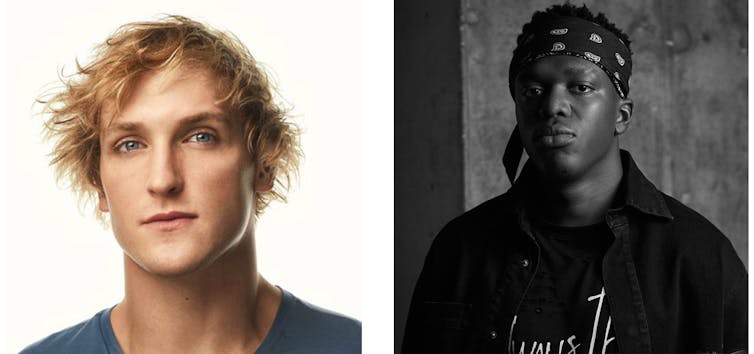 US YouTube star Logan Paul, age 22, first found fame on the super short form video sharing app Vine, before switching to YouTube where he now has two channels earning him around £11m a year.
KSI pioneered this new genre of crossover – the YouTube boxing match – with his first "grudge match" against YouTuber Joe Weller, who has 4m subscribers. Buoyed from his win against Weller in February this year, KSI said:
If any YouTuber wants it, you can come get it. Jake Paul, Logan Paul, any of the Pauls, I don't care.
And what a smart move that was, gaining KSI an extra 2m subscribers, as well as fame among US YouTube users, when Logan Paul came on board.
TV executives, take note
Although most of their videos are free to view, YouTube stars can make massive earnings. According to numbers published by YouTube, KSI racks up more than 5m views each day, which converts to roughly £7,600 in revenue. After tax, he will make around £4,600 a day from YouTube alone.
Advertisers pay YouTube according to the number of views lasting more than 30 seconds or clicks to their ads. In turn, YouTube pays a proportion to the content creators.
How much a YouTuber earns from the advertisements on their videos depends on who watches them, and how much attention they pay to the ads. The loyal subscribers of YouTube stars such as KSI and Logan Paul make up a very specific younger demographic, which can otherwise be difficult for brands to reach on TV.
TV networks have also recognised the value of YouTube stars, and are already trying to get them involved in the more traditional format. For example, the BBC has recruited Thatcher Joe – aka Joe Sugg, brother of YouTube darling Zoella – to appear as a contestant on Strictly Come Dancing as a contestant, no doubt hoping his 10m YouTube followers will come along for the ride.
For the most part, YouTube is a solitary viewing experience. But this live boxing match is YouTube's version of event TV – everyone will be watching at same time. The fact that YouTube can achieve viewers in the millions here makes it a real alternative traditional TV.
Money, money, money
YouTube has already announced its intentions to help its creators find other ways to make money, apart from advertising. And events such as boxing matches are one means to this end.
KSI and Logan Paul have both spent the past six months ramping up the hype for their fight, publishing "diss" tracks and updates on their training for their fans to follow. This is their main means of selling merchandise and tickets and building subscribers. Their loyal followers can't get enough of their antics and will pay for the opportunity to see them in action.
It will also open the door to sponsorships: someone like KSI can point to the number of people watching his videos, to argue that big brands should get involved, as they are hitting the equivalent of viewing numbers for traditional TV and beyond, with longevity on their YouTube channels to exploit further.
Yet YouTube stars have been known to take drama to the extreme. Earlier this year, Logan Paul posted a vlog showing the lifeless body of a suicide victim, which was met with massive backlash from the wider public. In response, YouTube temporarily suspended ads on his channel.
It can feel like nothing is off limits if it will pull in subscribers. And this creates a difficult problem for YouTube, since it raises questions over online censorship and who is policing online content.
Logan Paul is so confident that he will beat KSI that he has bet $1m on himself to win. But this is pocket money, compared with the millions that he and KSI are on track to earn in merchandise and ticket sales. And whatever happens, a rematch has already been scheduled in the US in February 2019. Kerching!
The author would like to thank her son, Zach Duthie, for his help with the research for this article.